What are Compression Cable lugs ?

Compression cable Lugs are used in crimping. Buy Compression cable Lugs of various standards at MG Electrica.Get High Grade Compression Cable Lugs today. Compression Cable lugs are devices used for connecting cables to electrical appliances, other cables, surfaces, or mechanisms. The clamps that connect wires to an automotive battery are a common example of a cable lug, as are the ends of battery jumper cables. Designed to be easily installed and removed for repairs or maintenance, cable lugs area generally used when permanent, direct-fastening methods are not feasible or necessary.
Although compression cable lugs are widely used for electrical connections, more robust versions are used to anchor non-electrical cables to surfaces, mounting plates, or other cables. Architectural stabilization and safety cables, as well as rigging, are often fitted with load-bearing compression cable lugs made of steel or iron to secure cables and components. cable connectors for electrical use that are not subject to tension are made of aluminum, brass, copper, or lead and are sometimes plated to optimize voltage transfer and inhibit metal oxidation.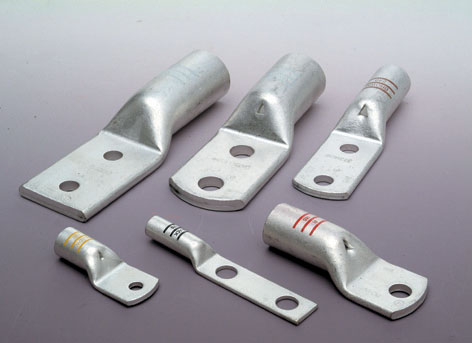 The connector end of a compression cable lug is typically chosen for its compatibility to the terminal type or anchoring method. Fork or U-shaped lugs are used for screw terminals; closed-ring or O-type lugs are used for bolt-on applications; and pin or spade lugs are used for press-on pin or blade terminals. A compression cable lug also serves as a cable-size reducer, thereby allowing thick cables to be attached to a connector with a smaller diameter.
Compression Cable lugs can be found on the wiring systems of automobiles, electrical boxes, machinery, household appliances, electronics, and other durable goods. For electrical use, cable lugs are typically insulated with rubber or plastic to prevent accidental transference of electricity to people or nearby electrical components. Other types require no insulation due to either cable lug placement or the lack of voltage.